All companies today seek to create a website, since that way they hope to have more reach, increase conversions, and the general productivity of the business. But it is essential that this website is built on the basis of an efficient, flexible, and scalable CMS. In the technology industry, there are two options that are powerfully attracting attention: Drupal and Joomla.
Drupal and Joomla have become two of the most demanded CMS options by companies, due to their enormous customization possibilities. Businesses feel free to work with these platforms, because they can create the website they have in mind, without any kind of limitation.
In this article, we'll talk about the main features of both content management systems, as well as the benefits and drawbacks of each option.
Learn a little more about Drupal
When we talk about Drupal, we mean an open-source CMS (Content Management System), which makes it very flexible and customizable. It is very easy to handle due to its modular design: when configuring it, you just have to add or remove the modules with the functions. Thanks to this, you can quickly put together your website.
Drupal is a CMS that adapts to any kind of industry, for example:
Retail: it adapts to retail businesses, their flow, and growth.
Sports and entertainment: It adapts to the users' need for immediacy.
Travels and tourism:  Drupal allows you to create responsive and attractive websites for travel agencies.
e-commerce:  offers facilities to create your e-commerce in a short time.
Education: Thanks to Drupal modules, you can create a learning website without complications.
Government: Drupal is a robust and secure CMS for government institutions.
Drupal Features
It is safe for users.
It has high performance in any scenario.
Allows you to create multilanguage sites.
Better position websites, achieving greater reach.
It offers facilities for marketing automation.
Content creation is intuitive and simplified.
The Drupal CMS is highly customizable.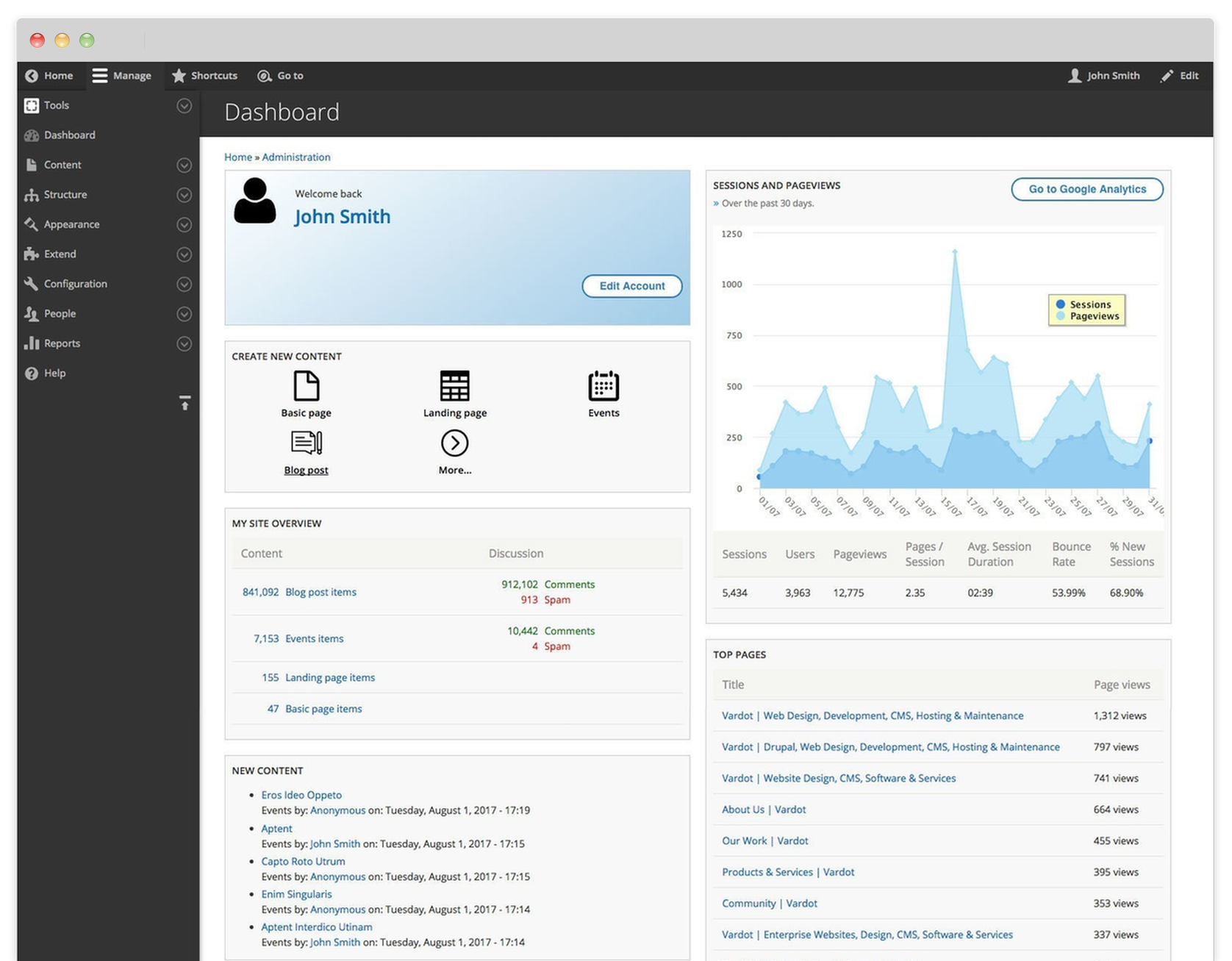 Advantages of creating your website in Drupal
With Drupal, you can quickly create a website.
It is a general-purpose CMS, that is highly customizable and flexible.
Drupal is a platform that has thousands of hours of development, with many years of testing by users and developers. Everything has made it possible to perfect the platform and reinforce security.
Being open source, with Drupal you do not have to pay any license to use all the features of this environment.
The Drupal developer community is made up of more than 1.4 million, who work to improve Drupal and support those who struggle with the platform.
Drupal always prioritizes the user experience, thanks to which you can create web pages with efficient UX.
Mobile browsing is optimized.
Drupal allows companies to have a CMS that scales with their needs. It will grow with your business, it will never be a limitation.
The interface focuses on the accessibility of the users.
Now let's get to know more about Joomla
For its part, Joomla is also an open source content management system, which offers many freedoms when working on it and configuring it.
Joomla! is one of the most popular website software, thanks to its global community of developers and volunteers, who make sure the platform is easy to use, extensible, multilingual, accessible, responsive, search engine optimized and much more" , detailed the company on its website.
Joomla's utility is quite broad and we summarize it below:
You can create corporate web pages with Joomla, as well as intranets and extranets.
Joomla is used to create websites for both large, medium or small companies. It fits everything.
It is a good choice for creating magazines and online publications.
It offers facilities to create e-commerce sites.
Educational websites can also be created and hosted on Joomla.
Joomla can also be used for larger tasks, such as creating inventory control systems, personalized product catalogs, business directories, reservation systems, among others.
Advantages of Joomla
It is flexible, easy to extend and customize. There are hundreds of extensions that you can integrate into your Joomla website.
Search engine optimization is one of the main attractions, since it improves SEO positioning.
It's free forever as Joomla is open source.
There are more than 70 translation packages available in Joomla, so you can have a multilanguage website.
As your business grows, you can scale with Joomla.
"Joomla is a stable and lightweight PHP framework that allows you to write web and command-line applications in PHP," the company detailed in an article.
Joomla Features
It is responsive, so your website will look great on any device.
Joomla offers hundreds of template options to customize your website. You can also create your own template.
Publishing content in Joomla is very easy, you don't need to know how to code. Schedule the publication of your articles, edit them and organize them by categories.
Every company can monetize by adding banners on their Joomla website.
Allows the use of tags when categories are not enough to organize your content or your products.
The Joomla CMS allows user registration, in case you want to offer additional or exclusive content.
Are you interested in building a website or looking for a better CMS for the one you already have? At Rootstack, we have +10 years of experience supporting companies in their digital transformation. Contact us!
We recommend you on video